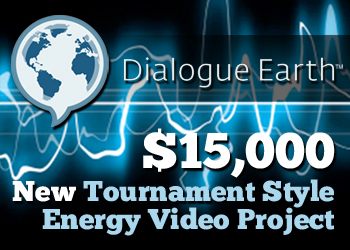 Through our trials, we have found that it is best while administering our video production contests through Tongal to start out with a concept phase.  By starting the contests in this way, it gives us more opportunity to give feedback and a little bit more quality control as opposed to just allowing the producer contestants to create videos based on their interpretations of our instructions.
Also by allowing for the concept phase, we can involve the best storywriters within the creative community, many of whom do not have the resources to produce videos.  This increases overall participation, seeds our project with great concepts, and plays towards the collaborative spirit of our crowdsourcing endeavor.
We previously had success with our first video project, where creative concepts led to engaging videos on the topic of ocean acidification.
For our inaugural Energy Challenge contest, we are tapping the crowd to create an informational video about the nature of our energy system in the US. The video will include the sources of our energy, how it's transported, and how we use it.  For the concept phase, contestants submitted a blurb of 250 or less characters, which will be used to loosely guide other storytellers in their formation of their pitches.  The concept will be used as a brief synopsis of what will happen in the story, so contestants were instructed not to write a screenplay.
Our winning concepts are the following, from 1st to 5th place:
Balloon Power by Chance Harris, Richard, TX
Source: Guy inflates tons of color-coded balloons w/ helium tanks labeled coal, oil, etc. Distribute: Many shots of him traveling w/ balloons which get stuck, popped and lost (inefficiency) Utilize: Balloons delivered to energy consumption points.
The Great Energy Quest by Robert Deutsch, Dassel, MN
Kids are playing video games when power goes out. They decide to go on a quest following the power lines to see where it went. They discover much more on their journey as they make it to the plant and beyond to uncover the very source of the energy.
Energy The Musical by Ervin Anderson, San Francisco, CA
Let's get ambitious & bold: Convey the energy message through a musical. Every generation has their educational songs they'll never forget. Why not do this for a new generation? An educational song for each video. Where does energy go? Let's sing!
Hamsters on a Wheel by Matt Lewis
Two hamsters sit in their cage under a light that's powered by their exercise wheel. The chunky hamster asks the fit hamster why they don't get power like the humans. He explains their complicated energy system and concludes they're better off.
Through A Child's Eyes by Mark Pragasm, United Kingdom
A child explains how energy is harnessed to his class. A simple cardboard demonstration soon becomes bigger and more theatrical filling the classroom, ends with him turning on a light,class are amazed. Kid whose up next with volcano project is upset.