South by Southwest (SXSW) is the annual opportunity for startups across art and technology to prove themselves or, more often than not, generate buzz in the attempt. Whether you're checking out the latest surf rock 3-piece or organizing drinks via group text, SXSW generates chatter – and a lot of it.
We couldn't resist the lure of participation, albeit from across the country, so we decided to turn our developing Pulse technology, for analyzing social sentiment, on the interactive portion of the event. We focused on something a little different, though…
While everyone knows SXSW Interactive is a proving ground for technology startups, it's also an opportunity for established brands to renew their cache and demonstrate continued relevance.
We looked to Apple and Google. Both popular, establishment companies. Each eager to stay ahead of the curve by continually rolling out new devices and services.
The Data
Between March 11-15, we collected nearly 12,000 tweets for Apple and Google using the terms: apple, ipad, iphone, google, android and #sxsw.
Then, we analyzed the sentiment of the tweets with our partner CrowdFlower using a survey that first targeted emotion: positive, negative, no emotion, or can't tell, and secondly the product it was directed at: Apple brand, iPad device, iPhone device, iPad or iPhone application, other Apple product or service, Google brand, Android device, Android application, or other Google product or service.
If you're interested in learning more about the process, read our previous article.
What we learned was commonsensical but no less illustrative as a case study for companies, new or old, about managing community expectations and delivering quality experiences.
The Analysis
The haiku takeaway would be: Mostly talk, Apple had a store, Google didn't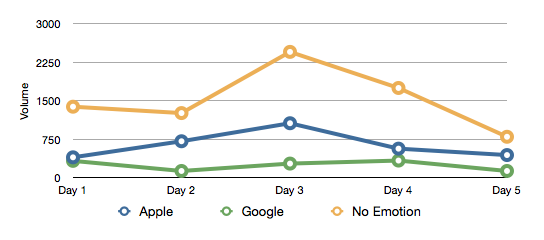 What our analysis showed is that volume stayed consistent over the first two days, dramatically peaked on the third, then decreased steadily over the last two days.
The large majority (64%) of chatter was non-emotional, but within the remainder, Apple's traffic was almost 3x that of Google, and it saw steady increase to and decrease from the peak day. Google, on the other hand, started at nearly the same point as Apple but flatlined throughout the event.

Most people were exchanging non-emotional information about brands, products or services, but if you were emotional, chances are you were talking about Apple, not Google.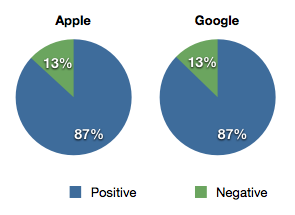 Looking beyond volume, the percentage between positive and negative chatter was almost exactly the same for Apple and Google, and overwhelmingly positive for both (87%).
It's not clear why the overall tone was so positive, but if I were to guess, I'd say that SXSW caters towards a pro-technology audience made up of people who are excited about discussing and eager to adopt new products and services.
While event atmosphere may possibly explain the chatter's positive bent, turning back to volume helps explain how Apple and Google importantly differed.
From the numbers, it's apparent that most of Apple's chatter concerned brand and devices which makes sense because Apple is primarily a hardware company. Likewise, most of Google's chatter concerned brand and services.

Digging a bit further, however, reveals how Apple and Google capitalized on their natural strengths to very different result.
Having announced the iPad 2 in February, Apple released it during SXSW, going so far as to build a pop-up store to stoke and facilitate demand – and demand was huge.
Looking at Apple's tweets, the positives are primarily about wanting or getting an iPad 2, and the negatives are about fretting over whether to get or not getting one. In either case, the iPad 2 was on a lot of people's minds and in many of their hands. As a result, the volume of chatter was huge.
On the other hand, Google dealt with the fallout of non-release.
Early on, much of the positive chatter was about the possible release of Circles, a purported Facebook competitor, and a product ideally positioned for the tech-friendly, highly social event. However, Google instead revealed that Circles would not be shown or released and, at one point, stated that it wasn't even in development.
Negative chatter subsequently focused on this disappearing act, while positive chatter shifted to other established services but gained no momentum.
Google didn't seem to suffer a negative backlash so much as they missed out on the potential for much larger positive reception. In the midst of a ripe event, they failed to capitalize on buzz, while Apple exploited it full bore with a very real product.
Our Conclusion
Our conclusion is elementary and important as ever  – manage your community's expectations, and deliver successfully upon them with quality, personal experiences. That goes for devices or services.
If you can successfully target and execute those experiences rather than simply making announcements or retracting announcements-that-were-yet-to-be, you can greatly amplify the volume of positive chatter.
Failure to do so may lead to negative chatter or, debatably worse, no chatter at all.
Looking at Apple and Google's recent track record, it would seem only one of them has taken this old lesson to heart. Apple actively cultivates expectations and delivers very polished product (iPhone 4, iPad 5, MacBook Pro, etc.), while Google repeatedly launches services (Buzz, Wave, Circles, etc.) that fail to gain traction and disappear.
Next Steps
Our study was conducted as a small-scale sample of our Pulse technology. We attempted to cover a single important weekend, two significant companies, and the traffic they generated.
I hope you found the exercise and analysis as interesting as we have. Comments are welcome and appreciated.
Beyond SXSW, Dialogue Earth recently released a pilot covering weather attitudes, and we have a number of exciting pilots in development, including persistent analysis of attitude around energy and a much larger weather sample. We'll have more to say about these and other pilots shortly.
Stay tuned, and thanks.