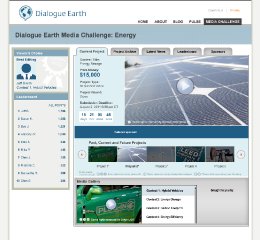 At Dialogue Earth, our mission is to increase public understanding on key societal topics. Since we launched a little over a year ago, we've spent every day trying to figure out how we make that happen.
Months of strategy meetings and pilot tests have culminated in the creation of a new event.
The inaugural Dialogue Earth Media Challenge™ will be a year-long series of 10 video contests focused on energy topics. Beginning in July 2011, creative people from across the U.S. and beyond will compete to produce compelling, short videos on a range of topics—including the basics of various energy sources, energy efficiency, hybrids, and smart grid.
Each contest will have multiple stages of competition, with substantial prize money awarded throughout. The goal for each contest will be to produce a series of relevant and engaging videos that large, diverse audiences will grow to trust.
Our pilot energy video contest provides a sample of the quality of videos this competition will generate.
We will be partnering with sponsors to support the Media Challenge, providing them positive brand exposure both during the competition and on an ongoing basis as the produced media are viewed by online audiences.
Success of the Media Challenge depends on creating an ecosystem that reinforces the brands of Dialogue Earth's partners, and two elements of our culture ensure this outcome. All media and associated content will continue to be non-advocacy. Our goal is to increase public understanding, not to advocate for particular actions, decisions, or policies.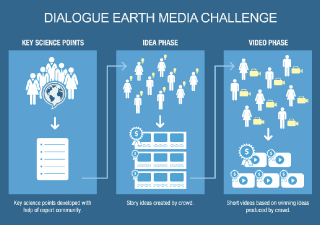 Of equal importance, the message of all videos and related content will be built on a foundation of information developed and endorsed by a broad network of experts drawn from industry, academia, government, and other stakeholder groups.
Combining these broadly-endorsed science points with creative video storytelling will then bring the science to life in a way that will engage viewers, and strengthen the brands of our partners.
The Media Challenge has great potential, and we look forward to working with content creators and our sponsor partners to build a successful media campaign.
Please continue to visit this section of our site for upcoming announcements.
For those interested in sponsoring the Media Challenge, please contact Tom Masterman at tmasterman@dialogueearth.org.