Some months ago, our research team developed a strategy for inferring opinions about global warming from Twitter for our Pulse platform. We were lucky to be asked last week if we could present such data for the next issue of Momentum, the award-winning publication of the University of Minnesota's Institute on the Environment. Of course, like all of us on a deadline, they needed it "yesterday."
Not to be deterred, we rapidly spun up our collection system to grab those Twitter tweets that included the keywords global warming, climate change, and #climate. For a six day period ending on 23 March, we collected about 7600 tweets that had some geo-location information associated with them. Based on our recent experience focused on weather mood (described in this post), and because we had already generated a good number of quality control units (as described here), we posted a major job on the CrowdFlower platform within a day of the request from the Momentum team. Here's a snapshot of the results: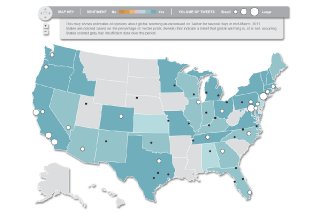 The map suggests that, at least among Twitter users posting tweets referencing global warming or climate change during this period, a majority believe that global warming is occurring. Notably, the volume of tweets on this subject was too low in a number of states to estimate proportions, as show in gray. Similarly, major metro areas that lacked sufficient data to report volume show up simply as a small black dots.
Using a strategy that our team developed previously, a distributed workforce was tapped via CrowdFlower to make judgments about each tweet. Through this process, also known as "crowd sourcing," the crowd-sourced workers were asked to infer whether each Twitter author believed global warming was occurring, or not, based on a detailed set of instructions (see survey below).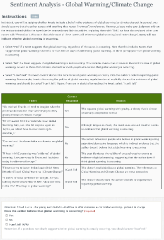 The volume of tweets, as can be seen in the graph below, combined with the map shown above, suggest that we will probably need to average data for at least a week—and probably multiple weeks—to be able to estimate values for the entire U.S.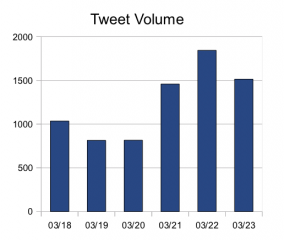 These preliminary data from March 2011 are very similar to data we collected during the big Spring snow storms of 2010 and during the week surrounding Earth Day 2010. The proportion of Twitter authors who we judge believe global warming is occurring is generally well above 50%, and in some cases reaching 90%.
Of course, we are not actually taking any sort of representative sample, nor are we using a time-tested polling approach. Rather, our goal is literally to take the pulse of the social media chatter, so that we can detect swings in opinion and identify opportunities for introducing trustworthy, engaging content directly into the dialogue (read more about that here). Ongoing work is centered on improving our approach and monitoring such opinions on an ongoing basis.