Security, as it relates to the topic of energy, is front and center lately, with oil prices on the rise and the nuclear disaster in Japan. Earlier this week, the Bipartisan Policy Center (BPC) released an open letter to the American people and our leaders on the issue of "energy security." As was highlighted by Andy Revfkin's post on the Dot Earth blog, the former U.S. Senators and high-ranking officials from previous administrations zero in on reducing our "oil intensity" and setting up the systems and accountability to achieve this goal.
Oil intensity is the amount of oil needed per unit of GDP. It is clear from the piece that their focus is by and large on economic and national security aspects of energy policy. As pointed out by Revkin, economic and national security often trump considerations having to do with the environment.
What is energy security anyhow? I was particularly influenced by a seminar given by Professor Massoud Amin at the University of Minnesota (see a description and video of the talk here). One takeaway from his great talk on the topic of smart grid is that energy security might best be defined as the overlap between economic security, national security, and environmental security. From a holistic perspective, this makes a lot of sense to me.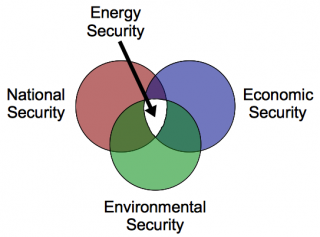 Briefly, economic security might pertain to creating jobs or finding markets for commodities. National security probably does not need explanation—the idea is that requiring less energy and/or sourcing that energy domestically will have an impact on our sense of security globally.
Environmental security includes connections between air pollution and human health as well as greenhouse gas emissions and global warming.
Success from Dialogue Earth's perspective would be a future where the public—and policymakers—have a sufficient understanding of the science and technology issues related to energy so that we constructively debate the relative influence of these three types of security when developing energy policies.
In our effort to increase basic "energy literacy," we will be launching an intensive, year-long campaign to create a series of engaging videos all on the topic of energy. Read more about plans for our Media Challenge here.