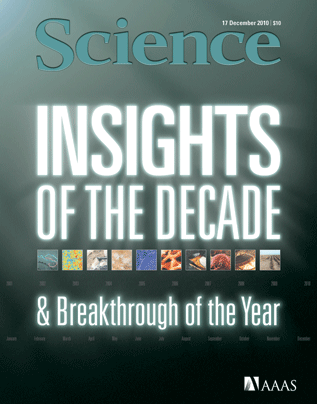 Few would argue that topic of global warming (or the more general topic, climate change) is hugely polarizing. Richard Kerr and Eli Kintisch chronicle the past decade of research on the topic of climate change in the 17 December 2010 issue of Science. They also layer on a summary of the dynamics of the international political scene. As a scientist, I find it saddening that climate scientists have often become the target of very personal attacks. Perhaps the nadir of the decade occurred in the wake of the publication by hackers of private emails between climate scientists. Kerr and Kintisch's synopsis will undoubtedly prove to be true: "the event may have profoundly damaged public views of climate science, with political repercussions yet to unfold."
In terms of my personal experiences, I'm reminded of the inaugural public event for the new Heller-Hurwicz Economics Institute at the University of Minnesota earlier this year. I had the occasion to meet a delightful older couple. Immediately after being introduced to them as being affiliated with the University of Minnesota's Institute on the Environment, the woman asked what I thought about Al Gore. Soon I realized: people do not tend to ask your opinion of this iconic figure in the global warming debate if they are a fan of his. My realization came after explaining that my feelings are mixed—his science is largely sound, yet I believe his politics have, unfortunately, increased the polarized nature of the debate in our country. I was left wondering if she discounted the science because of the icon, although that would be a perfectly reasonable explanation.
Polarization is the norm, yet it is rather paralyzing. Does it need to be the norm? I believe the answer is a resounding no. That is why I am so passionate about launching Dialogue Earth (for more see this post and my recent op-ed in the Pioneer Press). Can we cut through the polarization on a topic like global warming? I am certain we can, although it will be no easy task.