A recent post by David Roberts on Grist.org demonstrated the value of explaining a rather simple concept about our energy system: the mix of our energy sources. In Robert's post, he pulled out data from Black & Veatch's Energy Market Perspective analysis on the energy sources for U.S. electricity generation, comparing the mix in 2011 to that projected for 2035.
This post made me want to take another look at the video, Uncle Sam's Dinner, from our just-completed video contest. Specifically, I wanted to check how closely the creator, Henry Reich, had come to representing the various energy sources that make up the overall U.S. sector—not just for electricity generation. Comparing the pie chart below with the stop watch captured above, it is clear that the video is extremely accurate. See this post for the full background material on the U.S. energy sector provided to creators for this contest.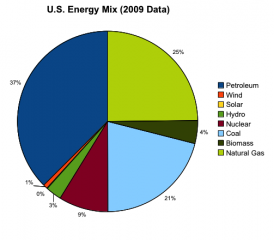 This is a great example of our strategy at Dialogue Earth that will be featured in our upcoming year-long Media Challenge focused on energy topics. That is, with the help of great storytellers like Henry Reich, we will produce highly-engaging videos that convey an accurate message in terms of the relevant science and technology.