We recently became aware of YouTube's powerful, Insights analytical tool. It appears that YouTube gathers data on each view of a video, keeping track if people rewind to a particular spot or click away mid-way through. The result is a graph that shows attention or interest during the video, shown to the video's owner through a simple interactive display that pairs the running video with a line moving on the interest graph. It looks like a video needs at least 500 or so views before YouTube will provide hot spot data. Having explored the idea of doing some in-depth market research, we assume that this is no replacement for detailed studies by market research firms.
Yet, what can we learn from this about our videos on the topic of ocean acidification? You can view all but one of them on our YouTube channel.
Our "No Shell Blues" video appears to be a solid performer based on the hot spot analysis. Perhaps we could conclude that it gets off to a slow start, yet viewers appear to be hooked once Timmy snail first makes a sound.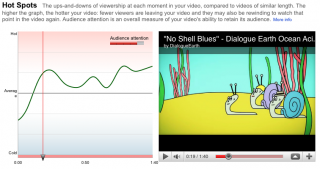 In contrast, the hot spot analysis on our "New Neighbor" video reveals a very different trend. It would appear that some viewers probably clicked away, but those who were hooked grew more interested. That said, there's another possibility for the hotter spots near the end: some of the dialogue is hard to hear—especially that of the mermaid. Thus, people may have been rewinding to hear it again. Even if this is true, it is a good sign that people are generally interested in the video.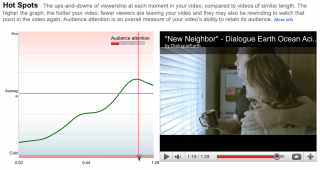 Finally, we pulled the "Surprise Guest" video off our YouTube channel because we felt that it wasn't the best representation of the quality we hope to produce in the future. Nevertheless, we felt that this video demonstrated potential for how a suspense scene could be used to convey a story about ocean acidification (read more about our selection process for the ocean acidification contest). The hot spot, or should I say cold spot, data supports our feeling that the video doesn't maintain viewer engagement after the baseball-bat-wielding homeowner discovers the mermaid in the tub. Had we the budget, it would have been interesting to work with the creators to keep the momentum of the video going beyond that point, especially as it had to do with communicating the science points behind ocean acidification.