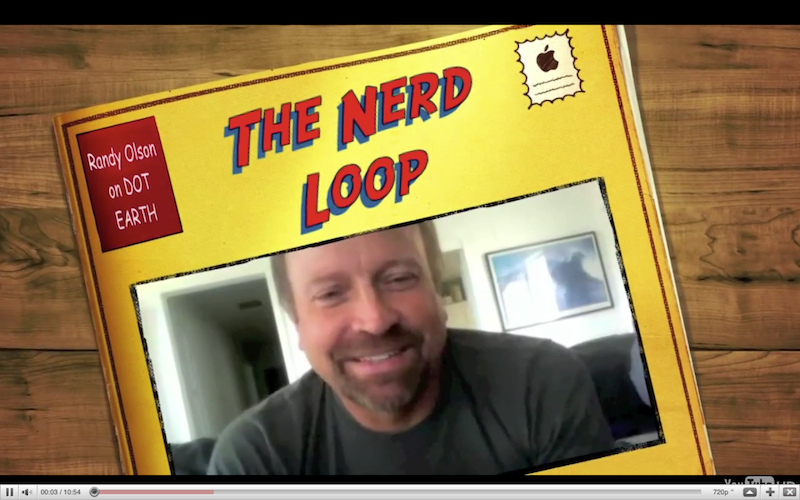 Prior to reading Andy Revkin's post Climate, Communication and the 'Nerd Loop' just now, I was unaware of Randy Olson's newly coined term the "Nerd Loop." It is a term that he recently gave to in-the-box strategies for communicating science to general audiences (read about it on his blog, The Benshi).
Olson argues passionately that there needs to be more risk taking in the science communication realm. I equate this to needing more out-of-the-box approaches, some of which will fail and some of which will help members of the public to understand a bit more about important issues like global warming, energy, food, water, land use, and so on. There won't be a single approach that will work in all cases. Nor do I expect that there will be massive uptake of new information. It'll be a slow, gradual process.
For me, I think the key for out-of-the-box approaches to work is that there needs to be an underlying genuine quality. Is there an effort to change people's minds, or just to inform? If the goal is ultimately to change people's minds, I deeply believe that even the most out-of-the-box efforts to raise literacy on a number of key issues connected to the environment will face barriers.
That's why I'm committed to a non-advocacy approach with Dialogue Earth. We're advocates for good information being present in societal dialogue and decision making. Period.
I believe that our strategy based in understanding the public dialogue, building credibility by drawing in a wide spectrum of experts, and ultimately delivering highly-engaging, crowd-based multimedia products holds lots of promise.
Ultimately, we can convince ourselves that we've stepped outside of the box, but our opinion amounts to very little. What do you think?