It is hardly news that we are all paying a lot at to fill up our vehicles. As we prepare to launch a multi-week analysis of mood about gas prices (here's the background on how we extract sentiment from tweets), I'm curious what questions people have that may have been sparked by high gas prices.
Questions around the topic of hybrid cars/vehicles seem like a good starting point, given that one of the key benefits of hybrids is the potential to cut down on fuel expenses. One goal could be to create something like this Wired flow chart that is designed to help people choose a social search site. Not sure yet what the starting question would be to draw in as many people as possible on the topic of hybrids, but I think it would need to be responsive to feeling pain at the pump. One can imagine an interactive flow chart that offered up explanatory videos at various decision points.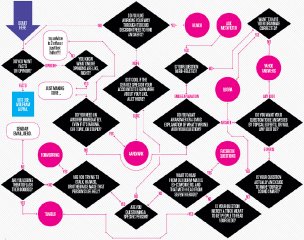 So, what are people asking about hybrids on Twitter? Below is a sampling of what I observed from a quick search on the string "hybrids ?" (by the way, I'm impressed with Storify's handy interface for creating this kind of graphic).
Interesting. This is a clear sign that people have questions and might respond well to short, snappy videos that helped resolve their questions…
Circling back to our monitoring of mood about gas prices, how would we use a similar approach to help with this effort? Well, if we're able to identify a bunch of questions like those in the graphic below, then we'd need to dig in and figure out if many people share the questions. We would leverage our Pulse technology for this, using crowdsourcing to help us study thousands and thousands of relevant tweets. Stay tuned for more on this.