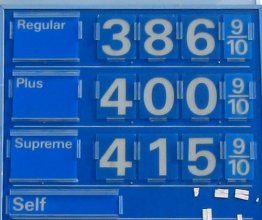 The memory of our frustration during our last car purchase, more than 10 years ago, is still strong. Fuel economy was central to our decision, and we ended up opting for a turbo diesel Volkswagon. Soon after our purchase, I certainly engaged in some second guessing. This was the older generation turbo diesel, which means the dirtier version. We were in Washington, D.C., so we had to carry with us the reality that we were contributing to lowering the air quality. A more nuanced issue—and one that I've not fully researched—is that fuel mileage for a diesel is not directly comparable to that of a gasoline powered car, especially if one is interested in their transportation carbon foot print. I'd forgotten about this for a while, but it is very relevant now that we at Dialogue Earth are working on a project proposal to supply information to support consumer decisions that are connected to energy use.
Over the coming weeks and months, we'll be exploring how people get their information about energy use when they're pondering a purchase, be it a new car or a clothes dryer. Is there the proverbial "low hanging fruit" in terms of information that would be relatively easy to provide, but is not readily accessible currently? No doubt consumers will span the spectrum from knowing very little about energy to having a deep knowledge. What do consumers with different energy knowledge want to know?
Have you thought about your personal energy use recently? Did you seek out new information? If so, was it easy to find? What sources did you tap? If not, why?