Having just spent a bunch of time working on a pre-proposal for the National Science Foundation, I'm excited about an idea to create more feedback for drivers about their energy use. This project concept is motivated by recent research that many of us have a tough time judging the relative energy savings from a variety of behavior changes.
For example, the researchers found that many Americans estimate that a central air conditioning system uses about the same amount of energy as a window unit, when in fact a window unit typically uses several times less energy (link to abstract of article by Shahzeen Z. Attari and colleagues in the Proceedings of the National Academy of Sciences here).
Perhaps you are an Xcel Energy customer, or you're with another utility that is taking advantage of OPOWER's innovative approach to giving feedback to utility customers. As a residential customer of Xcel's, we receive a monthly statement showing our use of energy compared to similarly-sized homes in our neighborhood. Thus, we receive a chart with our use of electricity and natural gas over the past 12 months, comparing our usage to that of our "efficient neighbors" and "all neighbors." Here is our household usage over the past year from Xcel's Energy Report website, which provides all of the data digitally after registering.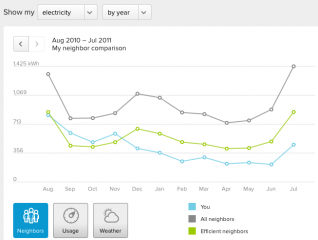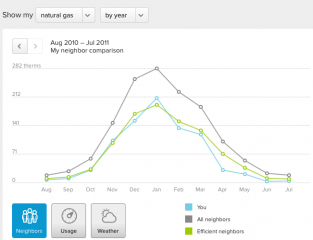 From the electricity usage there's a decent signal from two significant events: our normal family of four shrunk to just me from January through June; and we were traveling in July during some of the worst heat here in the Twin Cities (plus, our central air conditioner is out-of-commission). There are hints of the same events in our natural gas usage, although, they are not as prominent.
A really interesting part of the report is that the feedback to us is measured in smiley faces—yep, smiley faces. During a recent meeting of the Institute on the Environment's Northstar Initiative for Sustainable Enterprise's consortium, I was lucky to hear Prof. Vladas Griskevicius discuss his involvement with the work that has led to the use of smiley faces on the OPOWER reports. It is fascinating to me that something so simple as a bit of gentle feedback like this inspires people to change their behavior.

In thinking about fuel usage in personal transportation, it seems to me that it would be really helpful to provide drivers feedback like is captured in OPOWER's energy reports. I'd love to see how we do tank-to-tank compared to others who drive the same models as we own, as well as all drivers. My hunch is that it would inspire us to make some non-trivial changes.
Back to the proposal concept, I'm imagining a Web tool with a great mobile app that provides good mileage calculators combined with feedback compared to "drivers like me" and "all drivers." Plus, we'd pipe in a stream of mood about gas prices from our Pulse platform, while letting users register their mood directly. And, importantly, there's be ways to learn more about tricky issues like doubling miles per gallon (MPG) doesn't mean that you're cutting your fuel consumption in half.
Once we scrape together the budget, you'll be able to find it an app store near you!