In a letter-to-the-editor in today's Star Tribune, a reader took issue with U of Minnesota Prof. Allen Levine's recent opinion piece about the challenges facing our global agricultural system. Specifically, the writer asks why Prof. Levine apparently ducked the issue of "population control":
Prof. Allen Levine makes a number of compelling points about combating world hunger ("It's world hunger (and it's our world)," Aug. 21). However, he neglects a key point — because it is our world. He does not mention population control. The fewer people there are, the fewer resources will be used, even with a growing middle class. Why is it anathema these days to talk about population control?
Prof. Levine's piece raises a number of interesting points and sparked a number of online comments, including several others addressing population control:
NO mention of population control in this article? Sure, it's a thorny issue – but if we don't find a way to slow population growth, nature will do it for us, as horrific famines! The April, 2011 issue of Wired magazine has a great article about an Indian scientist who has come up with a male birth control method. It's an inexpensive, easily reversible, safe kind of vasectomy, with zero side effects. The Bill and Melinda Gates Foundation has given this scientist a small grant to pursue this potentially huge solution, so please go to www.wired.com and read about this exciting development!
If we don't find a way to slow population growth, nature will do it for us" Starvation in Africa is an example that it is already occurring.
Simple answer: Population control. Remember the 70′s. With less people we will need less fuel, less food, less of everything. Of course that would require responsibility by large population groups. Let's see which groups responded to this crisis over 40 years ago. Ah! The European and North American groups self regulated their population successfully. The Chinese started later and used coercion. The others…nothing. Time to pull up the drawbridge and stop saving the overpopulators.
As discussed in a previous post chronicling a talk by Hans Rosling, a professor of global health at Sweden's Karolinska Institute, there's a lot of momentum in global population trends, and there is really very little that can be done to influence population trends over the next 40-50 years. Baring some unforeseen calamity, demographers predict that the World's population will reach 9 billion by 2050, a statistic cited by Prof. Levine. The reason is that today's children will have their own children faster than older generations will die off. This is true even with the low fertility rates existing across most of the planet.
The Gapminder program developed by Rosling's team is a great tool for understanding an array of issues related to global population. Below, is a graph showing the total fertility (children born to each woman) over the past two hundred years (this link will take you to an interactive version of the map, which you can play over time and watch the trends develop). The size of each circle indicates a country's population.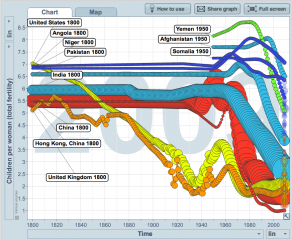 Clearly, the countries having the largest populations have managed to lower their fertility rates considerably. Yes, there are some countries with high fertility rates, although they are minor players in overall global population trends.
Thus, fertility rates across many countries is no longer the issue it was several decades ago. This reality prompts Prof. Levine and others to accept that any successful solution to the global food challenge needs to address a big jump in population over the next few decades.