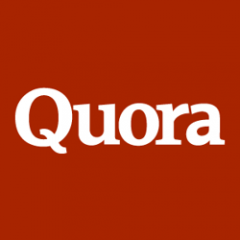 Over the past few weeks, I have been giving a good bit of thought to this question. Quora, began as a vibrant Q&A site for the start-up community in Silicon Valley. Its creators, who were key technologists with Facebook, know how to build a good interface. Their goal is not modest:
"Quora is a continually improving collection of questions and answers created, edited, and organized by everyone who uses it. The most important thing is to have each question page become the best possible resource for someone who wants to know about the question."
Some months back, I posed a still-unanswered question: Should Quora be used to gather and distill expert answers on polarizing topics? It is not at all clear if the answer should be "yes" or "no." Perhaps, as a Quora admin put it in a response to another question of mine, the right strategy is to follow Wikipedia's "be bold" policy, which is summed up in three words "Just do it." In other words, it may be necessary just to start doing it and figure out a way to make it work.
Why would we want to use a social Q&A site like Quora for this task? Well, I believe that transparency is big piece of the equation toward creating a serious, ongoing dialogue about big issues like global warming.
Lots to think about, for sure. One key element is recognizing that there are different question types on Q&A sites like Quora (a post that features work of colleagues at the University of Minnesota). Recognizing that there are different question types will undoubtedly be helpful when thinking about the types of answer that would be most useful.
Similarly, people vote up answers for a variety of reasons, not only because they are factually correct. Baring the inclusion of multiple levers to vote on a variety of answer attributes, such as wittiness, factual basis, credibility, etc., maybe we need to think about how we would pose questions in the first place. For example, would it be better to ask "How do greenhouse gases trap heat in the atmosphere?" or "What subject-matter experts would agree with this explanation of how greenhouse gases trap heat in the atmosphere?" The former is likely to receive answers from subject-matter experts and non-experts alike. Hopefully, the factually correct answers will bubble to the top of the answer queue. The latter question would require front-end work of ensuring that we've posed the question with a strong explanation of the issue (in this case an explanation of greenhouse gases), but it might hold potential for  gathering endorsements from subject-matter experts in a very transparent manner.