As we gear up to tackle some basic questions and answers on Quora about the carbon cycle as part of our EarthQ project, with a goal of soon being able to tackle issues like ocean acidification and global warming, it seemed that a roadmap to Quora would be key for collaborators who might never have hear of it. Hence, the idea of a Quora Infographic emerged late this past week. Here's version 0.1 that I'm throwing out for feedback. What do you think? Helpful? Silly? Gaping holes?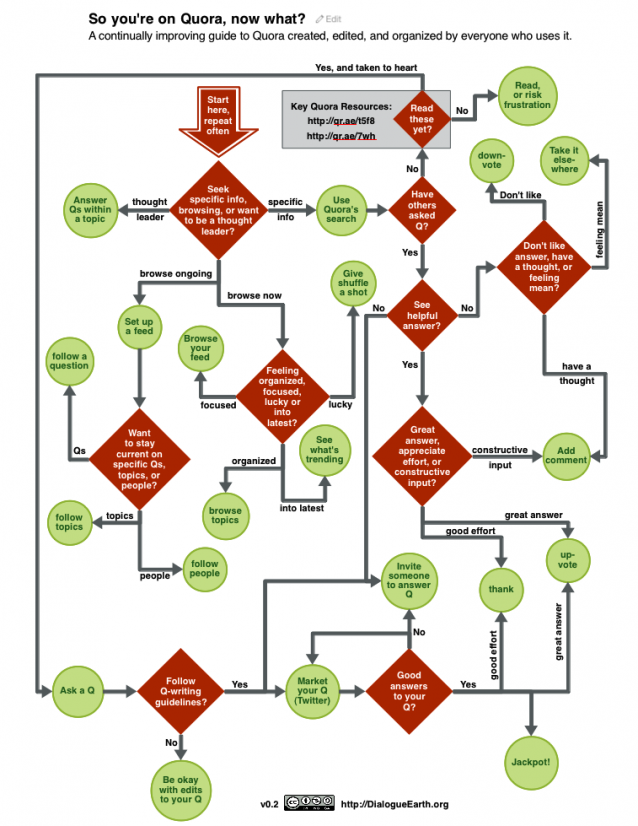 UPDATE: Now showing version 0.2, thanks to a comment from friend Mike Troiano to highlight the start arrow. Keep the comments coming!
Version 0.1


See this also on my post on Quora. I'd appreciate you up-voting it there if you like the idea.

So you're on Quora, now what? by Dialogue Earth is licensed under a Creative Commons Attribution-NonCommercial-ShareAlike 3.0 Unported License. Permissions beyond the scope of this license should be submitted here.