In a recent post, I discussed Why Hybrid Cars Are Tough To Justify On Fuel Savings Alone and how Gallons per Mile (GPM) would be a better metric than Miles per Gallon (MPG) to use to compare vehicles. The gist of it is that we save a lot more fuel replacing a 15 MPG vehicle with one that gets 20 MPG compared to replacing a 30 MPG vehicle with one that gets 35 MPG. The GPM metric makes this intuitively obvious, whereas MPG does not.
A few weeks back when I dipped my cup into the Twitter river, which I need to do more often, I happened upon a press release from the U of Minnesota Extension having to do with a new spreadsheet tool designed by energy economist Doug Tiffany to help those considering an alternative vehicle purchase.
Tiffany's tool allows the user to customize the data input, adjusting things like purchase price, down payments, expected cost of fuel, one's personal opportunity cost (the cost to me for tying up cash for down payment and monthly car payments). The tool then produces several graphs, the first of which is a 15-year cumulative cost projection comparing several vehicle types. For the graph below, I used the default values in the tool, which can be downloaded here.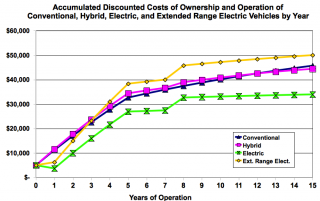 So, what this means, is that for the input parameters, the 15-year cumulative cost of ownership of the extended range vehicle, such as a Chevy Volt, comes out the highest, whereas the electric vehicle, like the Nissan Leaf, comes in with the lowest cost. The following graph shows the breakdown between car types at year 15.

Cost may not be the only motivator, however, at a time when many are concerned about greenhouse gas (GHG) emissions. Thus, it may be important for many to compare the estimated emissions of greenhouse gases from the different vehicle types. Tiffany's tool produces this graph based on various inputs.

As would be expected, the conventional gasoline-powered vehicle has the highest emissions. There's not as much difference between the other types, with the hybrid having somewhat higher GHG emissions than the all-electric, both of which do somewhat better than the extended range electric.
Tiffany's tool reminded me of a widget available from my colleagues over at Climate Central, which is embedded below. It allows you to get a good sense of potential fuel and GHG emission savings between two different vehicles. It dynamically updates fuel costs for your state, which is a nice feature.
Together, these tools provide a great resource to anyone considering an alternative car purchase. Perhaps these groups could team up to create a tool that blends together both annual costs / savings and economics over the vehicle's lifetime.