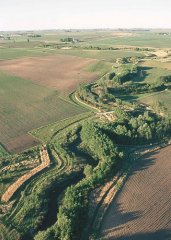 Yesterday I had the opportunity to hear EPA Administrator Lisa Jackson speak at the University of Minnesota, who was in town to launch a new program along with Minnesota's Governor Mark Dayton and USDA secretary Tom Vilsack. The new initiative, Minnesota Agricultural Water Quality Certification Program, has a goal of reducing the introduction of nutrients and soils to waterways via runoff, a process known as "non-point source pollution" (a point source is a pipe, a sewage treatment plant, etc.).
I was drawn to the talk specifically to hear what Administrator Jackson would say about the new program, which I had read about in the morning's Minneapolis StarTribune. She did not disappoint, although the bit about this new program occurred just as the questioning period came to a close. It was clear that she has a good deal of enthusiasm about this new program and its prospects for helping to reduce pollution, such as the introduction of nitrogen into the Mississippi that can lead to low-oxygen conditions in the Gulf of Mexico.
The write-up on the Minnesota Department of Agriculture site states that the program "is designed to accelerate voluntary adoption of agricultural practices that enhance water quality." Specifically:
Program details will be developed cooperatively in the months ahead, but the general concept is that farmers who implement and maintain approved conservation plans will be assured that their operations meet water quality goals and standards. So long as the participating farmers meet program obligations, they will not be required to implement additional water-quality practices for the duration of their certification. Conservation plans for participating farms would be developed by a qualified team of experts with consideration given to the unique characteristics of the farm, the farming practices, the surrounding watershed, and the region in which the farm is located.
A sampling of news articles and conversations with others at the talk suggest the following reactions. Farming interests will, as Administrator Jackson indicated, be thankful to have a sense of certainty that should result from the program, enabling better planning of investments and other business decisions. On the other side, those advocating for clean water will wish that the program would be mandatory and, importantly, that farmers would be held to limit runoff, rather than only being held to implement best management practices that should limit runoff.
If the management plans are tailored to each farm as indicated in the quote above, then this may well be a decent compromise. Time will tell on that. Having a brother who is a dairy farmer, I am all for solutions that are a win-win for farmers and the environment. Looking at it from another perspective, nobody should be happy that the Mississippi transports something like a billion dollars of nitrogen, a key plant fertilizer, into the Gulf of Mexico in recent years.
My feeling is that a plan like this new state-federal partnership will require great monitoring data to confirm that the the new management plans are having the desired impact on water quality. In the short-term, it may be sufficient to require the adherence to good management plans, but ultimately, we as a nation will need to know if the implementation of these plans is having an impact. Detailed monitoring of water quality will be an essential piece of the puzzle.
Photo credit: University of Maryland on Flickr.