As another test of our strategy for teasing out public opinion from social media, we explored measuring mood about gas prices on Twitter. This post summarizes the findings from this case study. Incidentally, we are set up to measure mood from Twitter on an ongoing basis, although we would need to find a partner to help defray the ongoing costs of crowdsourcing the sentiment judgments. (See this post to read more about our decision to examine the discussion about gas prices on Twitter.)
The sentiment we mapped was culled from tweets gathered from four weeks' worth of data starting on May 22nd, 2011. This time period was chosen to coincide with Memorial Day, a holiday during which many Americans travel by car. Our team was curious to see whether there would be an uptick in either the volume of tweets about gas prices during this period or a noticeable change in sentiment about these prices.
We found that during the month-long period we monitored Twitter users' sentiments, feelings about gas prices were overwhelmingly negative and changed little on a week-by-week basis (see the maps below). The maps are from our interactive Pulse tool, which displays the Twitterverse's sentiments about gas prices on the day before Memorial Day (deeper orange colors indicate negative sentiment; greens indicate positive sentiment). Additionally, we did not see clear distinctions in sentiment between different regions in the United States. We did see an apparent decline in tweets related to gas prices over the period, although the data set is not sufficiently long to report a clear spike in volume associated with the Memorial Day weekend travel period. Please check out our larger, interactive data set having to do mood about daily weather on the Pulse platform.
In the future, we hope to track mood about gas prices and related topics over longer time periods, which we expect would allow us to elaborate further on how sentiment about gas prices changes across time, as well as across geographic regions.
Mood About Gas Prices: Week of May 22, 2011


Mood About Gas Prices: Week of May 29, 2011

Mood About Gas Prices: Week of June 6, 2011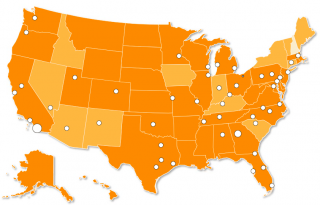 Mood About Gas Prices: Week of June 13, 2011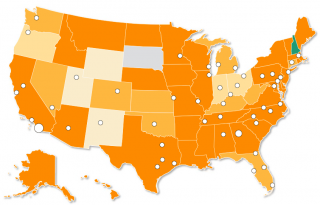 Mood About Gas Prices: Week of June 13, Northeast & Midwest
Note that pie charts report mix of positive and negative sentiment for metro areas, whereas the coloring of states report the sentiment averaged over the entire state.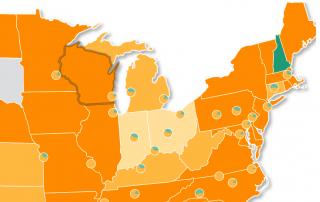 Mood About Gas Prices: Week of June 13, Southern U.S.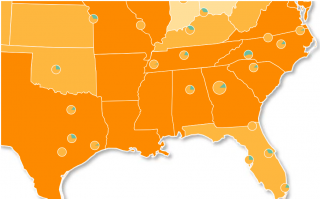 Mood About Gas Prices: Week of June 13, Western U.S.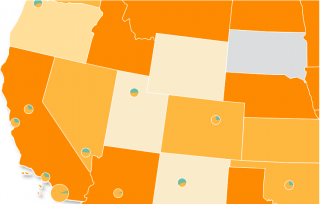 Mood About Gas Prices: How do we do it?
At the heart of our process are judgments made by workers from the "crowd."
We provide our workers with a survey, and a set of instructions on how to judge a tweeter's emotion about gas prices. Dialogue Earth's research team has previously done extensive testing of this approach using surveys on topics such as weather (read a more detailed analysis about this process here).
We also work on the tweets before and after they are sent to Crowdflower, our partner for crowdsourced workers.
Upstream of Crowdflower, we collect tweets on a continual basis using Twitter's streaming API. Our collection is based on several different keywords (for example, "unleaded" + "price," "pump" + "price," etc.). Then, for a given week, we randomly pull 200 tweets for each state and metro area (read more about our rationale behind the geographic regions chosen here). The actual number sent to the crowd is often a bit less, because we eliminate exact duplicates so that we are not coding them multiple times.
Working with Crowdflower's API, our team sends tweets from our database to a Crowdflower job, then back to our database once the requested number of judgments have been made. We then apply the sentiment found for each state and metro area to the full dataset for those geographic units.