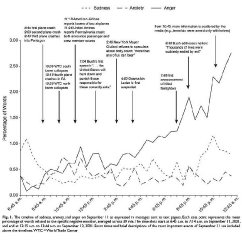 Whenever I come across a piece that highlights how tricky sentiment analysis truly is, I tend to be encouraged more often than dissuaded to keep trying to figure it out.
Sentiment analysis is tough—not as in strict, like a teacher is tough, or in resilient, like a marathoner is tough. More like hard, like an AP calculus test is tough.  Not hard, like a block of concrete is hard.  Hard, as in difficult.  Eh, nevermind.
A colleague of mine just sent me a piece from the Miller-McCune site discussing a flawed mood study about September 11 pager text messages.
Researchers from Johannes Gutenberg University in Germany had concluded that there was an escalating level of "anger" words communicated to pagers as time passed on September 11 (here's the study).  I've included the original data graph in this post. (more…)
More »