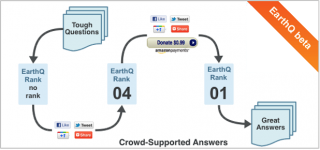 Over the past few weeks, we've been preparing to launch the EarthQ project. Modeled after Spot.us, which was recently acquired by American Public Media, we're soliciting questions for which people would like to see high-quality, evergreen content developed (see some example answers here). In order for a question to move up the queue, or have its EarthQ rank increased, it needs to be shared a lot through Twitter, Facebook, and other social media. We're doing this because it will be a substantial research effort to develop the high-quality answers, and we want to ensure that the question is of interest broadly.
Then, just like Spot.us raises funds to support the reporting on a particular topic, we'll be looking for donations to support our research team. We'll be aiming to raise micro-donations in 99 cent increments.
Head over to the Questions page to share (rank) questions and feel free to click the Amazon donate button to throw your 99 cents behind a question.
Over the past few days, these questions have been submitted via the website:
We welcome your feedback and ideas on this new project.
More »