We are thrilled that Dialogue Earth is featured in the most recent issue of Momentum magazine, an award-winning publication from the University of Minnesota's Institute on the Environment.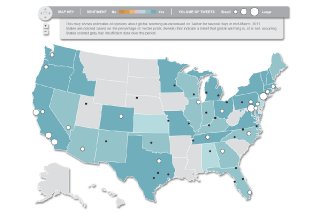 While we work to optimize key aspects of our business—from the incentives we provide crowdsourced video creators, to the quality of the underlying data for Pulse, our social media analytics tool—we're also rapdily ramping up our efforts to engage and broaden our base of supporters and collaborators.
Indeed, this Momentum feature piece comes at a great time for us.  There's a ton going on.
Our Pulse tool is just about ready for prime time.  In a matter of weeks, we'll have an version of Pulse that will provide daily information on the Twittersphere's mood about the weather.  On the heels of that, we'll be looking at Twitter chatter related to gas prices.
More »