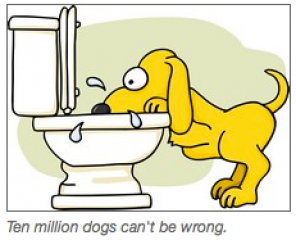 My first reaction to hearing at the breakfast table about today's piece in the NY Times about water reuse in San Diego was that it isn't all that different from what we have been doing for years: discharging treated waste water into streams and rivers and then drawing out drinking water downstream, counting on bacterial decomposition, dilution, and other processes to treat further the discharged water. I was pleased to see that this point was discussed in the article.
Drinking water that recently was flushed down a neighbor's drain is a tough concept, pardon the pun, to swallow. However, as the piece in the Times correctly points out, we are headed into times in which resources like water are likely to be scarcer. To my mind, this community is a shining example of people—who rightly had very strong feelings on an issue—being willing to accept what the science community had to offer. Jerry Sanders, the mayor of this San Diego community, put it this way: "If science is behind you and you can prove that, I think people are willing to listen." Here, here!
Image in post from Climate Watch. Thumbnail image on home page from the NY Times article.
More »